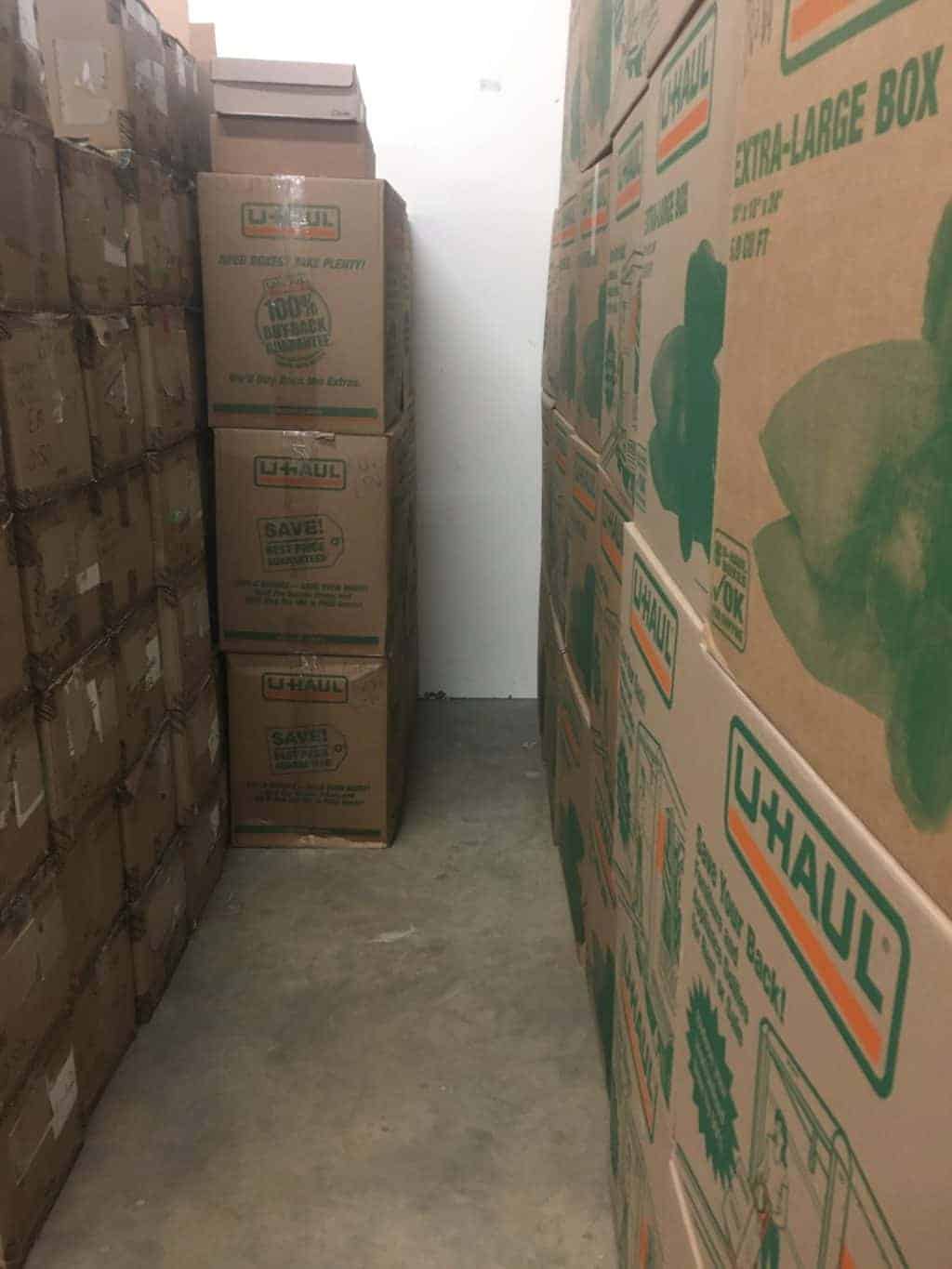 Your Garage or Warehouse Can Look Like This...
When I started selling online, I was doing everything out of my house. Over time it got to the point where I had to invest in warehouse space, and we eventually outgrew that and had to move into an even bigger facility. That's the path I want to put you on.
Our Wholesale Accelerator will help you...
Streamline the process of finding profitable products…
Increase the amount of suppliers who say yes to you…
Dramatically increase the amount of inventory you control over time…
Increase sales and profits…
Save time.
You'll learn all the secrets we use to find, get, and grow our wholesale accounts. We guarantee results for anyone who puts in the time.
Want to build an automated inventory pipeline that provides a full-time income? Here is step one...
When I was first getting started selling online, one of my biggest challenges was figuring out what I should do next.
I thought a lot about where I wanted to get and the lifestyle I wanted to achieve but actually putting things into practice was difficult. The more I looked things up, the more people shared other ideas on things I could be doing.
This led to a lot of indecision which ultimately meant I wasted a lot of time trying to decide what the next step was.
If your goal is to "free time and automate" income, my first recommendation to you is to make a decision as soon as possible regarding what strategy you want to use to do that.
Despite what many will tell you, there are many ways to do this. Wholesale is just one of them. There are many others. Don't get too caught up trying to pick the perfect road when the roads all lead to the same place.
If you are interested in wholesale, the next section will share some of the reasons I like it.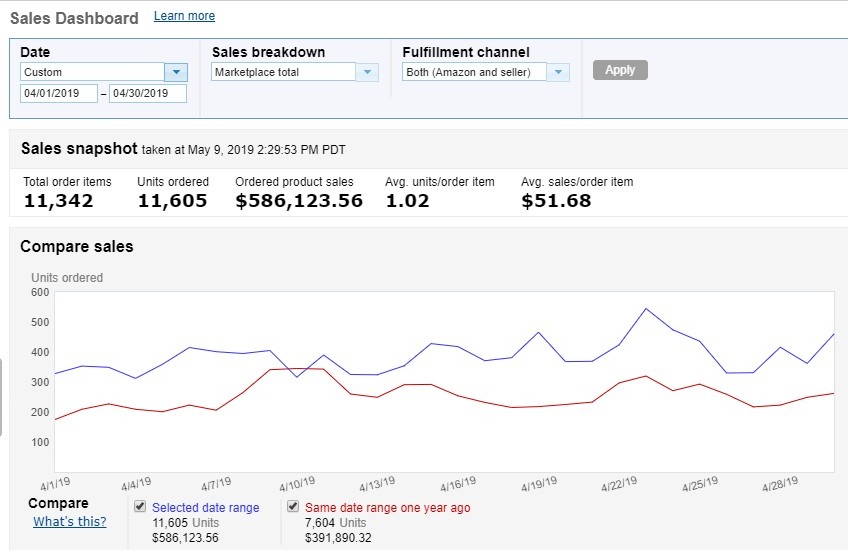 The earnings potential is very high.
There is virtually no limit to how big you can scale wholesale. This model is the basis for many of the biggest companies in existence, including Walmart.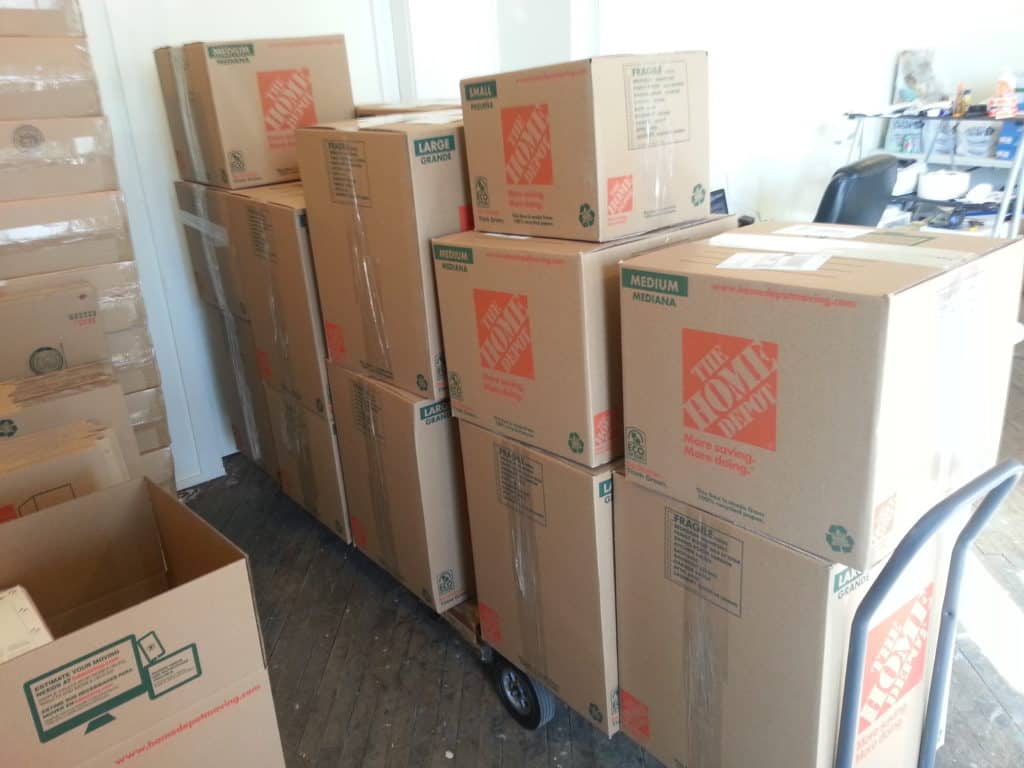 It's a low-stress business.
Wholesale offers the opportunity to find a product once and keep selling it as long as there is demand. It's a good feeling to watch the sales role in knowing you can replenish.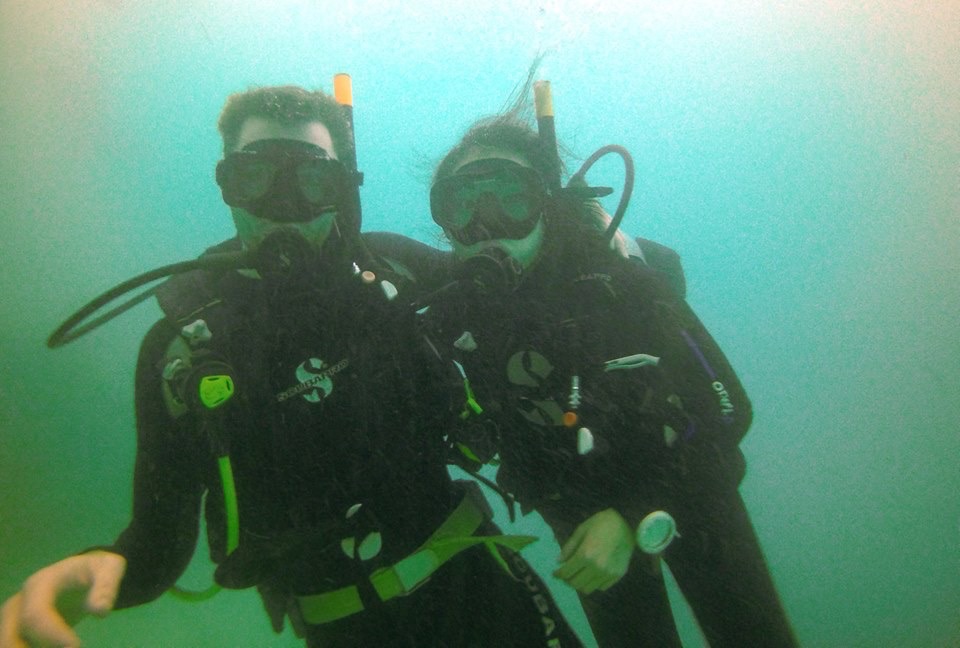 I've been able to travel the world with my wife.
More than most business models, wholesale lends itself to automation and outsourcing. This means I can have a trusted team carry out the day-to-day operations of my business.
You can have a guaranteed account within 8 weeks but there are pitfalls you'll want to avoid.
Like I said above, wholesale is just one road you can take to having a business that provides your full time income. Above, I shared some of the reasons I think it's a particularly enjoyable road.
If you decide that its one you'd like to travel, your next decision is how you want to get started.
Let me warn you that while its not nearly as difficult as you may think, getting started is still a lot of hard work. There are some common mistakes people make that can lead to disaster or frustration.
These mistakes generally revolve around low-quality accounts that are extremely easy to get. If you try to skip the set-up work that will make you an appealing partner to "good" suppliers, you will be left looking at price lists that don't offer any profit potential or stuck with products that aren't selling.
If you are going to do this, take the time to do all the set up work including the various paperwork, setting up a proper website with a dedicated email, etc...
These are topics we cover extensively in our Wholesale Accelerator.
It's a live, 8-week program where you'll work closely with my team and I on doing all the important prep work, identifying good suppliers, contacting them, and placing an order for a product worth selling.
If you invest in the program and complete the work, we guarantee that you see results in the form of an account and an order placed by the end or I'll refund all your money.
If you see a button below, that means we currently are accepting registrations and have space available for our next Accelerator.
Here's what you'll learn each week.
Below you'll find the general curriculum for our Accelerator.
Each week there will be a main class day on Monday followed by a review and Q&A day on Thursday. We'll end up covering much more than the outline below, but this will give you an idea of the pace of the course and what you'll learn.
Week 1: Introduction to wholesale, initial setup considerations, resale certificates, insurance, bank accounts, etc...
Week 2: Choosing a category, finding products, and building your value prop website
Week 3: Finding supplier contact information, making initial contact, trade shows, and value adds for suppliers
Week 4: Setting up a wholesale account, requesting a price list, price list evaluation, placing your initial order, and placing reorders
Week 5: Negotiating with suppliers, listing your product for sale, and shipping
Week 6: VA's and building a remote team, building an in-person team, and pricing
Week 7: Projecting lead times, updating inventory lists, seasonality, and repricing
Week 8: Final recap
Below you can see what lessons are available immediately when you register. Each week a new section will be added with the lessons and assignments for that week. The replays of each live class will be added as well.
"I really enjoyed the course and learned so much. I think both of you did a great job teaching. I feel like I have the tools to make this work. I like the fact that I can go back and watch the videos as many times as I need (I have and will continue to watch them!)."
-Phyllis G (Wholesale Accelerator Participant)
If you are worried about being late, you need to zoom out and think big picture.
I talk to a lot of sellers (both new and existing) who tell me they wish they would have started earlier and that they are worried that they may have missed the ecommerce boat.
The graph to the right comes from Statista and shows the jump ecommerce enjoyed in the US due to the pandemic.
But even with that huge spike during Q2 2020, ecommerce grabbed less than 20% of all retail sales.
With more and more retail stores closing every day and consumer habits shifting increasingly towards online shopping, it's hard to imagine a world 10 years from now where ecommerce doesn't account for at least a third of sales, which is what many experts project.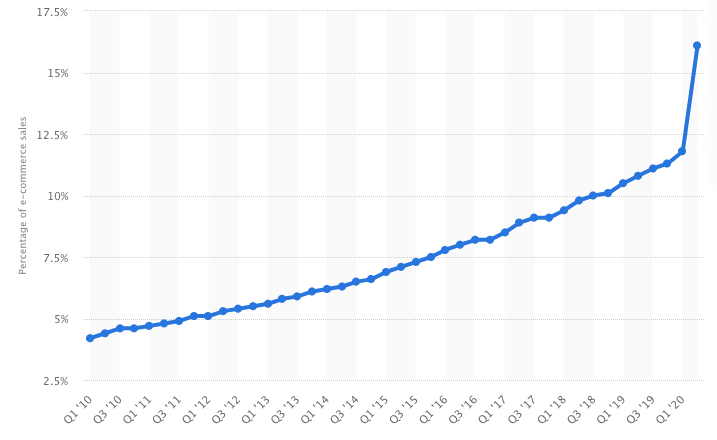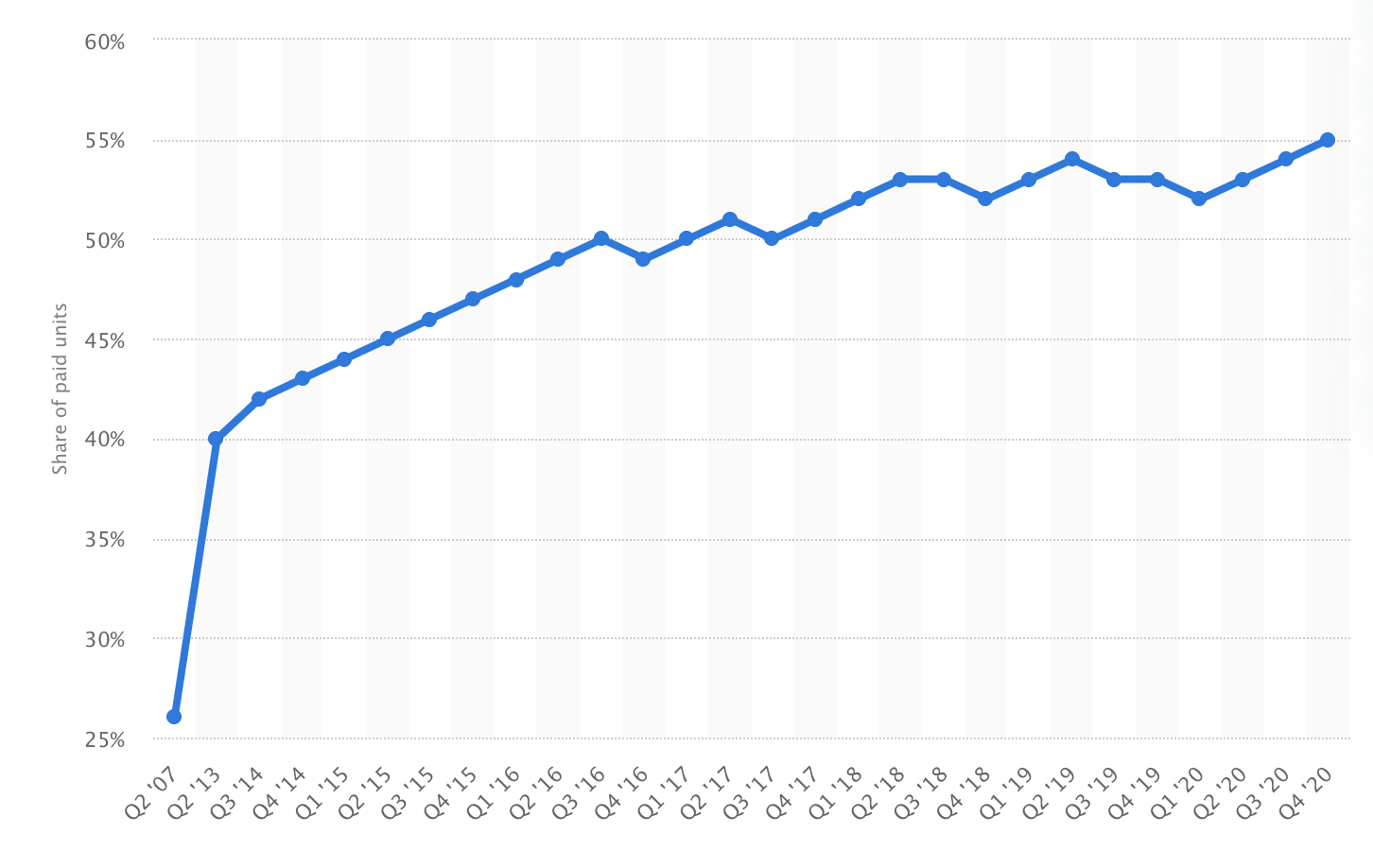 Amazon doesn't want to replace wholesalers - they want more of them.
Many people assume that Amazon will just be replacing all resellers - working directly with manufacturers to buy inventory and fill their warehouses themselves.
But reports say that the exact opposite is true, with Amazon increasingly moving away from wholesale relationships.
It turns out that Amazon prefers to have third parties like you and me do the reselling for all but the biggest brands because it means they don't have to have all that money tied up in inventory.
The graph on the left shows the share of sales on Amazon made by third-party sellers - it's more than half and going up.
We guarantee that this program will work for you as long as you complete the homework. If it doesn't, we'll give you 100% of your money back.
When you sign up for our Wholesale Accelerator, we guarantee that by the end you will have both a new account and an order placed as long as you complete the weekly assignments.
The supplier will be one worth working with - we're not just going to have you sign up with one of the wholesalers that offer no profitable products and are really just there for ungating.
We're going to help you get an account you actually want to have, with products you want to be selling because of the potential for profit.
After many rounds of the Wholesale Accelerator, we have never had to honor this guarantee.
What You Get When You Enroll
The base of this program is the 8-week program which includes 2 live classes each week, plus all the related materials and homework.
This base program is enough to get you your account and in our admittedly biased opinion, is worth more than programs that charge significantly more than we currently are.
On top of the base program, the next round of our Accelerator will include the following bonuses for free:
A private, 1-on-1 review call for us to go over what you've achieved and develop a plan of next actions.
Our on-demand wholesale training course called "High Output Wholesale"
An individual critique and review of the value prop website you'll build during this program.
Our "Email Outreach Template Library" - these are templates you can use to make writing emails to potential suppliers much easier and faster.
A recording of our Trade Show Mastery workshop (trade shows are an important way my business gets wholesale accounts).
Priority email support with 48 hour response time for any and all questions you have during the Accelerator.
We've sold several of these items for more than the enrollment fee for this Accelerator in the past, and you'll be getting them all for no additional cost.
Given the amount of time we invest into running this program, the outcomes you'll enjoy, and the guarantee that you'll see results, we feel that asking for a $1499 investment for the program is both fair and reasonable.
"Both Ryan and Nick were wonderful, thorough teachers, carefully covering the in-and-outs of wholesale, sharing common bumps they have encountered and how to avoid them. They presented the material in an easy-to-understand weekly course that allowed plenty of Q&A and time to perform homework tasks that furthered us along our business paths. OSE is the most consistent, intelligent, and direct-action team I have found in my years of being an Amazon seller with the success story behind them that keeps me driven!"
-Kathy (Wholesale Accelerator Participant)
Answers to your questions...
If you have any questions about this program, please to do not hesitate to reach out to our support team via [email protected]
Here are answers to some of the questions we've received. We'll add more as we get them.
How much money do I need to place an order?
Most suppliers will have something called a Minimum Order Quantity (MOQ). This varies from supplier to supplier. On the low end, this may be just $200. On the high end, it can be in the thousands.
Keep in mind, Amazon also wants to see at least 10 units of a product on an invoice if the invoice is being used for ungating purposes.
We recommend being able to invest at least $1000, and $1500 is even better.
You can do this with less and we've regularly had first orders with suppliers come in in the $500 to $1000 range, but being able to invest more keeps more doors open in terms of being able to hit MOQs.
So $1000 to $1500 is ideal, but less isn't a deal-breaker if you are ready to potentially put in more work.
What is the account that I will get?
We do not have a list of accounts that we give people. We work with each student to find a product and supplier that works for them. While we could just give you a supplier to contact, we want to teach you the principles that go into both finding and securing accounts then work through them with you.
By doing it this way, you'll learn and know every step of the wholesale process and be able to go out and get more accounts when the Accelerator is over.
How does the guarantee work?
We guarantee that you'll get an account and place an order during the 8-week program as long as you complete the weekly assignments on time. The assignments are clear and straightforward, and you should have plenty of time to complete them each week.
If you miss an assignment, you'll receive a warning. If you miss a second week, you will no longer be eligible for the guarantee. This policy is in place to keep you accountable, and we'll be there following up with you to make sure you get everything completed and can't accidentally forget.
There aren't any tricks involved here, our primary goal is your success. We've found this policy to be both fair and effective for nearly 100% of students so far. With all this being said, if something comes up, we'll work with you. Again, our primary goal is your success.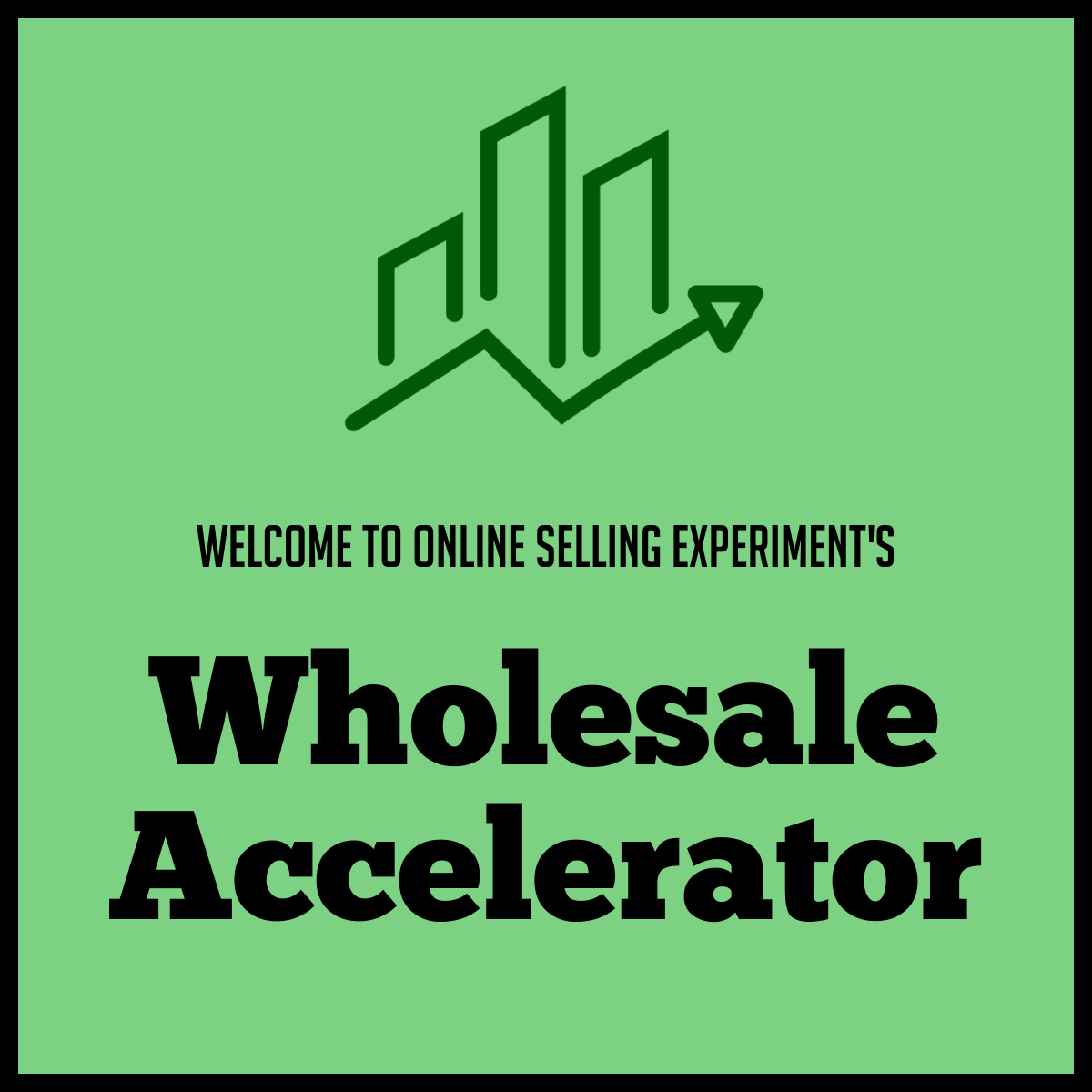 Why we're offering a live "Accelerator" instead of a traditional course...
There's a problem in the online course industry that no one wants to talk about - a huge percentage of people that sign up for on-demand courses never get around to actually doing anything.
They enroll in a course, watch the first few videos, then plan on coming back "sometime soon" to finish.
We've found that all engagement metrics are dramatically higher with our live Wholesale Accelerator. Students sign up, show up, and see real results.
What this means for you is that the design of this program dramatically increases the odds that you leave it with an account and an order for a bulk product.